I have a lot of emails in Mac Mail that were originally Eudora emails, converted to Mac format and now they are in nested folders in the "On my Mac" sidebar of Mail. I want to put all of those emails in a new library, and either I've been doing it wrong, or it hasn't been working, or I'm stopping it before it's done. Perhaps this screen shot tells the story? In Mail I selected the Older Ins and older Outs folders, then pressed F-1 to capture it to a new library. Pretty quickly it reached the state shown in the screen shot,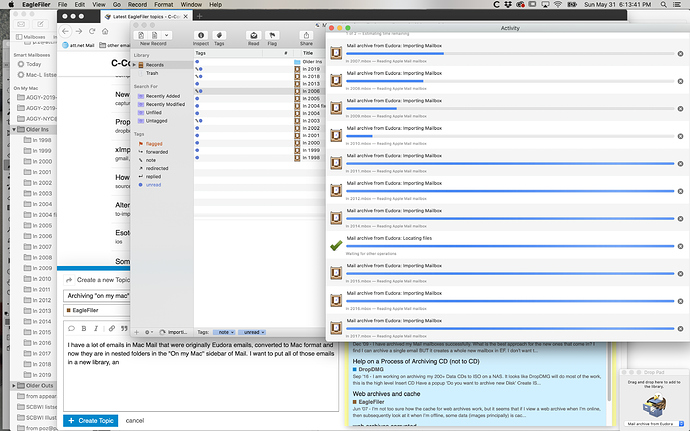 and Eaglefiler's Activity window hasn't advanced at all in over an hour. When I look in Finder at the new library, the individual mailboxes that have shown up in it (about half of the mailboxes in the "Older Ins" folder are there) are small files like 24 MB, and nothing like the big collections of emails that they are. An "importing files" wheel at the bottom of the Eaglefiler window is still spinning, but there is no sign of anything happening.
If I didn't have enough space in my computer to hold all of this, would Eaglefiler tell me? I'm going to have to sleep the computer for the night, and see what it looks like tomorrow.