Get individual error messages that spam messages cannot be moved. Bug with update?
It's possible, but I've not heard any other reports of this happening with macOS 11.3 or 11.3.1. It's most likely a server issue or that Mail's database needs to be rebuilt.
Is this happening when you train a message or with automatic filtering in the background? What does the error say?
It had been working fine with all the rules in place you had me set up. Just this most recent update (this morning) It happens now with automatic and training.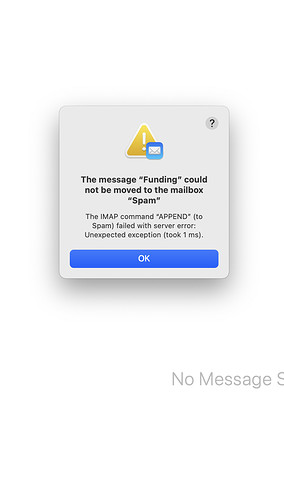 Which version of macOS were you using before the update?
Is your Spam mailbox on the same IMAP server as the source mailbox for this message?
11.3.0 - the last one.
All I know is that I changed the spam box from local to icloud last time to get everything to work.
My understanding is that macOS 11.3.1 did not update Mail, so perhaps this behavior is was caused by a change on your mail server. It may help to make a new spam mailbox there—either by deleting and recreating the mailbox or by making a new one with a new name and changing SpamSieve to use it.
Weird, since I use mail servers from different services. Odd that it occurred immediately after the update.
Did you try rebuilding the Mail database as indicated above?
I rebuilt all 9 mail databases. First thing I did. The only thing I didn't do was a complete shutdown/restart.
It's end of work day, so doing that now.
I recommend doing the complete rebuild (deleting the database files) rather than rebuilding the mailboxes from within the app.
Thanks. After complete shutdown and restart things do seem to be working again, so I think we are good for now.