SpamSieve Version 2.9.36
Outlook 16.26 (Office 365)
MacOs 10.14.5
Only account in my Outlook 365 is an exchange account. Only rule in the rules is SpamSieve. I configured SpamSieve / Outlook according to the guideline. Rule is configured as follows: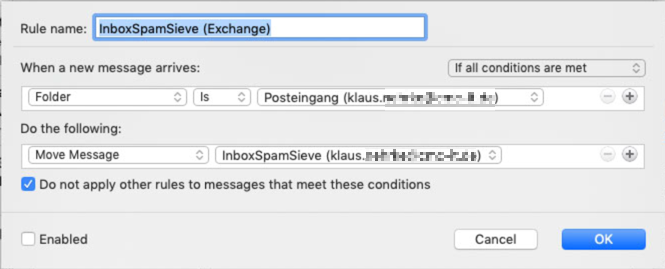 When I activate the rule, following happens:
E-Mail is being received in the Inbox
E-Mail will be moved to folder "InboxSpamSieve"
E-Mail will be moved back to folder Inbox (still marked as "new")
E-Mail will be moved again to folder "InboxSpamSieve"
and so on…
So, I checked the rules again and again and I did not understand, what went wrong. So I finally decided to open a thread here in this forum, after I did not found a solution here. To avoid language hick-ups I switched the system language from German to English. I once again checked the behaviour of the system to be as accurate as possible with the description… and what shall I say? Now it works. It is strange for me, because it is hard to believe that the system language could influence the behaviour that way, but I did not change anything else.
So if an other user has this problem, I wouldn't say this solves your issue by guarantee, but it might be worth testing that.
Have a nice day,
Klaus