You could take a look at your library's Smart Folders folder in Finder. Do you see duplicates there, and if so what are their names? Is your library folder syncing with Dropbox or iCloud Drive?
I have the EagleFiler library in iCloud Drive
this is how it looks in the "Smart Folders"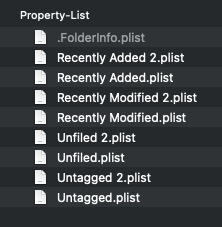 However, I have never used these before because I have no idea what I can use them for.
I'm guessing the extra files were created by iCloud Drive because EagleFiler tries to avoid creating duplicates, and when it does recreate a missing smart folder it uses a different naming scheme than seen in your screenshot. I suggest quitting EagleFiler and removing the files with "2" in the name.
I recommend turning off Optimize Mac Storage if your EagleFiler library is stored in iCloud so that it doesn't get confused by files that are missing because iCloud decided to evict them. Also, if you're using multiple Macs, please make sure that your library has been closed on one Mac and fully synced before opening it on another.
Hmm ok, and a backup function that regularly backs up the data does not exist? Anyway, I have not found one.
That was the reason why I have the whole thing in the iCloud folder, so that the data is not gone when the PC is dead.
EagleFiler does not have a built-in backup feature, but it works with Time Machine and other backup software. I really do not recommend treating iCloud as a backup. It's not designed for that.
i am not so long with macOS and did not think about TimeMachine at all. Right there is then a backup of it
Thanks for the help
With EagleFiler 1.9.4, EagleFiler prevents duplication of smart folders, even if the files have been evicted from iCloud Drive.