I have owned SpamSieve for some time now. I must say that the program does not work reliably as I would like it to.
Given is Apple Mail with five accounts. Any spam will end up in the folder "Is advertising" and there in the subfolder of the respective account (see image). So the spam folder doesn't distract me. When you quit Apple Mail, all spam is deleted. I use macOS in german.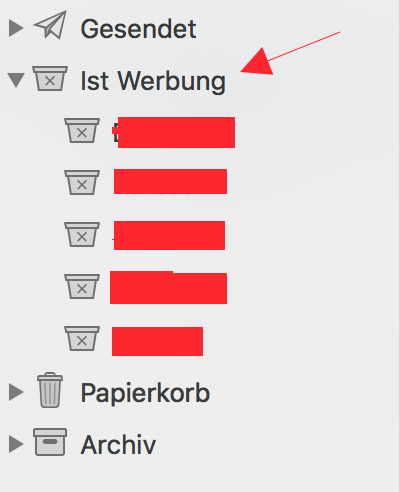 It would be nice if it worked that way. In fact, however, a folder called Spam or Junk is always created in the respective subfolders of the respective account. And this is not deleted on exit. With my provider, each account is set so that spam is always moved to the "Is advertising" folder.
So where do these folders called "Spam" and "Junk" come from and how can I turn them off?
SpamSieve only makes sense to me if it hides distracting spam. Spam must not become a self-occupation. The detection rate is 100%. I'm using iOS devices too.
Can anyone help?
Many greetings