macOS 10.12.6, Mail 10.3, SS 2.9.29
Hi Michael,
For several years, I have had a regular email correspondence with a friend who is in my Contacts. SS has always correctly categorized his emails as good. This week, however, SS has judged them to be spam, and moved them to the spam folder. Each time SS makes this error, I train the false positive with Mail > Message > Spam Sieve - Train as Good.
After this happened a few times, I wondered if I'd mistakenly "trained as spam," as correcting false negatives is a lot more common than correcting false positives; perhaps muscle memory and habit had controlled my response. So I went back and carefully re-trained those same recent messages as good.
Even after this correction, the error continues to recur; it's happened twice this morning. SS is otherwise operating correctly; here's the current Statistics window: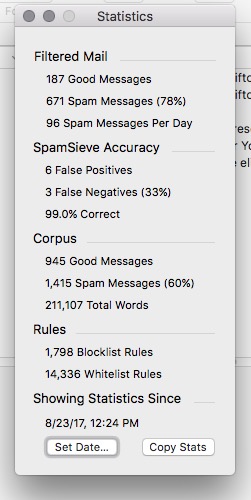 The percentage correct number had been about 99.6% before this series of miscategorizations.
Any ideas? Would seeing the SS log file help?
Thanks.
David Brick
Santa Cruz CA