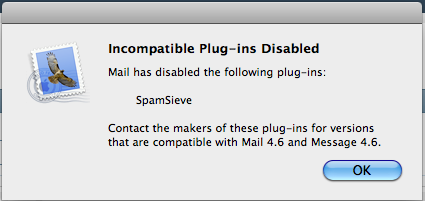 I see no announcement that a compatible plug-in is available. Please advise what to do.
Kate
SpamSieve 2.9.4 is compatible with Mac OS X 10.4 through 10.8.2. However, it looks like today's Security Update 2012-004 (Snow Leopard) for Mac OS X 10.6.8 changed the requirements for Mail plug-ins. Please [STRIKE]contact me via e-mail and I'll let you know when I have a fix available[/STRIKE] see below.
Same issue with Apple Mail -
I have the same message. Will email as requested for solution when found. Thank you!
A pre-release version of SpamSieve that works with Security Update 2012-004 is available [STRIKE]here[/STRIKE] (see below). If, after installing the update, you don't see the SpamSieve commands in Mail's Message menu, it may be necessary to go to the SpamSieve menu and choose "Install Apple Mail Plug-In."
YES! I had to go and manually "install plugin" under the SpamSieve menu three times… but it stuck on the last time and back in business. Awesome. Thanks.
Plug-in Not taking for Me
I too made the mistake of d/ling the Security Update from Apple. For the record, I've never had a problem with Security Updates in more than 20 years!
Went to the link in this Forum but despite the fact the ABOUT SPAMSIEVE says I have 2.9.5b1, there are no options under Mail/Message to mark as Good or Bad. While doing all of this several times, I got one piece of good mail and it landed in my Trash folder. Now it's disappeared.
HELP!
Then you should choose "Install Apple Mail Plug-In" from the SpamSieve menu. If that doesn't work, please see this page for how to report error information.
When using the standard setup, no messages will go to the trash because of SpamSieve. If the plug-in is not installed, Mail will move messages (both spam and good) to the Spam mailbox.
Messages can be removed from the trash by manually deleting them, by emptying the trash, by a preference that you set to automatically delete messages in the trash, or by the IMAP or Exchange server removing them from a server-side Trash mailbox. Messages would not be removed from the trash by SpamSieve or Mail rules.
still having problems Spamsieve not working after apple software update
hi,
I have quit mail and tried installing apple plug in several times, without success.
The message comes up that it is already installed.
Please see attachment.
Please kindly advise what I need to do, thanks.
(All my mail is going into the SPAM folder at the moment)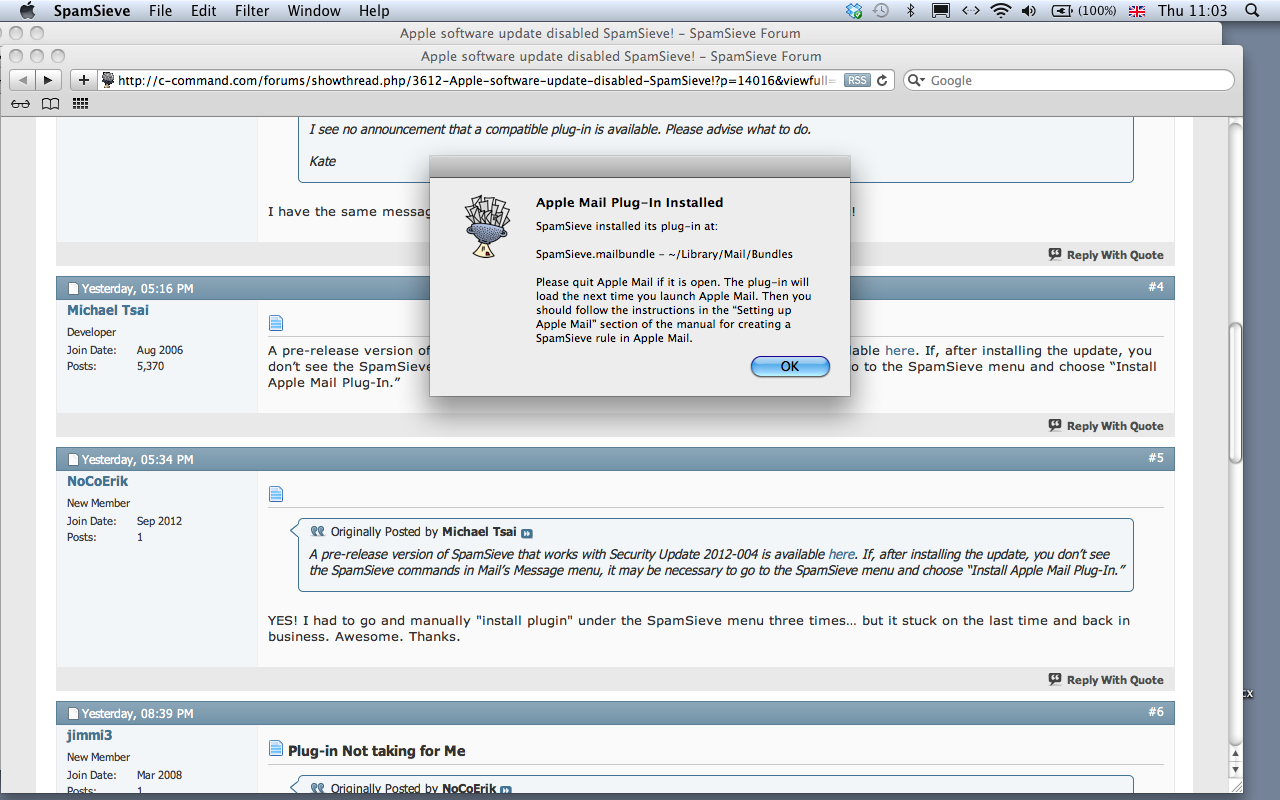 That message means that it just installed the plug-in successfully. So what makes you say that it was without success? Have you tried restarting your Mac?
closed down Mac and restarted, with Mail closed. Loaded Spamsieve, then tried to open Mail.
Message "incompatible plug-in disabled. …"
Please see attached screenshot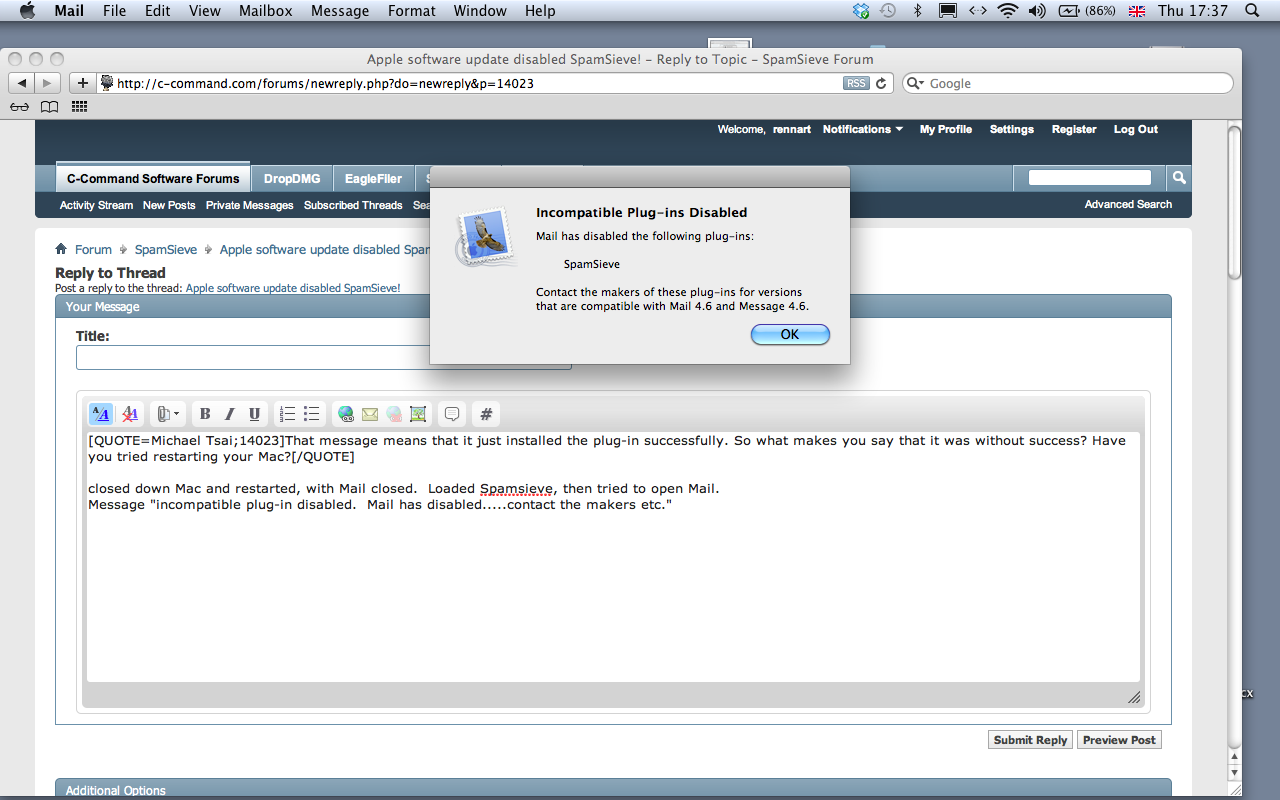 Thanks for the 2.9.5b1 fix
Same thing happened to me–the new apple update killed my SpamSieve. Installing the 2.9.5b1 version fixed it. For a while, all of my incoming email was going to my spam folder. (Bug? or Feature?!?).
Thanks for the fix though.
problem with apple update solved
hooray, thankyou so much for this advice.
I installed 2.9.5b1 and spamsieve is 'back in business'
I followed the instructions for installing and activating the patch, but no-go.
I followed Michael's instructions for installing the patch and activating it by rebooting my MBP (Snow Leopard) and then again Apple Mail.
No positive results. In fact, because I had forgotten my forum password, I had to request another.
Both responses from C-Command ended up in my Spam folder.
This is pretty serious. I invoked Apple's Junk mail filter and it's doing all right, but it doesn't tag spam as SS did.
I hope a real fix is around the corner.
Apple has become such a company of dopes. No regard for their developers or their customers. Just $$$.
FIXED. SEE BELOW.
I would need some more specific information to be able to help you. Did you install the plug-in? Do you see the SpamSieve commands in Mail's Message menu? Are there errors reported? So far, it's been working for everyone else who followed the instructions.
Possible Fix for this and previous problems after Apple Security Update
For those of you still using Snow Leopard (10.6.8) and also SpamSieve who had SpamSieve kicked out after the recent Mac Security Update for Snow Leopard, suggest you do the following:
Go into Mail preferences and go to "RULES" and see if the new SpamSieve installation somehow (as it did on my computer) enter a SpamSieve rule to move ALL MAIL to SPAM. If so, remove that rule. C0Command Forum leader please correct me if I am wrong in this recommendation.

After #1 is done, close Mail and Open it. Check in Mail's main menu bar under "MESSAGE" to see if the SpamSieve commands are shown as:SpamSieve-Change Settings as well as SpamSieve-Train as Good and SpamSieve-Train as Spam with the associated hot keys. If so, you are almost good to go.
#3. Go back to Mail's Message and click on SpamSieve-Change Settings and go through all the options and input your choices.
The above worked for me AND I did have a problem with SpamSieve 2.95b creating a rule in Apple Mail to send all my messages to Spam. I think that must be a glitch.
Stephen
Fixed: Be sure to delete (manually if necessary) prior versions of SS.
I discovered that the new patch was being installed properly, but it was not replacing the 2.9.4 version that is having the problems with the Security Update. The reason was that the 2.9.4 version was in its own folder. The 2.9.4 version was being reactivated each time I restarted my machine.
When you install the new version, be sure to go back and manually delete any old versions that may be remaining.
Now my Spam Sieve is working fine again. Thanks, Michael.
This information is incorrect. You should not be changing the rules or settings. Instead, download the beta, follow the Updating instructions in the Read Me file, and choose "Install Apple Mail Plug-In" if you don't see the SpamSieve commands in Mail's Message menu.
Installed Beta, see commands in message menu, still have problem
I installed the beta and see commands in message menu, but now SpamSieve is not filtering my email at all, everything is ending up in my inbox. I deleted the SpamSieve mail rule that resulted in everything going into the spam folder. Should I use a new, different SpamSieve Mail rule?
You should not have deleted the rule. You'll need to re-create it according to the instructions in order for SpamSieve to work.